So not only am I a terrible, lazy blogger, but I'm a bad wife. We were at my mother-in-law's last weekend and while washing dishes I took of my rings and put them on her window sill. Well that is where they still sit, hanging from the beak of a small ceramic swan.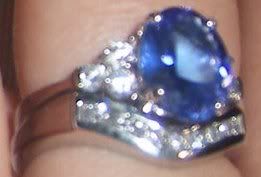 Whoops. I've been
ringless
for 4 days and it's kinda of strange. No one has tried to pick me up yet, mistaking me for a single lassie, though.
Hmm
.....perhaps I should put more effort into getting dressed for work?