I love tattoos. I think they are beautiful and sexy and in general have been known to think a guy is hot based on his tattoos. That being said there a lot of people with a lot of stupid tattoos. I love Zack Morris, but I'd never do this.
(You can see 77 more people who decided to have the likes of Bob Barker, Bill Cosby and Bald Britney tattooed on them
here
.)
I'm not a big fan of people who walk into tattoo parlours and pick something off the wall. Why would you want something that who knows how many other people have? Don't you see the
hundreds
of
douchey
ex-frat boys running around with
barbed wire
/tribal arm bands? They look stupid!
Personally I think a tattoo should be something you've thought about and has at least some
tenuous
meaning to you. For example: I'm not Japanese, I have no Japanese heritage, I've never been to Japan and I didn't major in Japanese (although I did take one
Anthro
course on Japanese culture through film, but I digress) therefore I'd never get Japanese
characters
tattooed on me.
Now if you have some Japanese
characters
tattooed on you, I'm not trying to make you feel bad. Personally, it's not my style. I would, however, have Hebrew
characters
tattooed on me. I do have Celtic
knotwork
tattooed on me. See the link?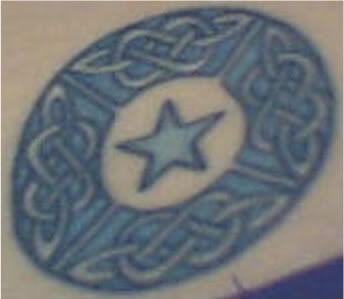 Anyway, everyday on my bus I see this girl. I'm going to say early-mid 20's and oh her tattoos (that I can see) drive me nuts. I can only assume she has chosen to commit another cardinal sin in my book: copying a celebrity tattoo.
Exhibit A: Celebrity Tat
Eve, rapper/actress. I'd never get claws printed on my girls, but I think somehow Eve manages to pull it off.
Exhibit B: Copy Cat Tat
Now bus girl, well not only does she not pull it off in the slightest, her paw prints looks like they came from that sad cat who is always trying to escape
Pepé

la Pew
. The only similarity with Eve is that they both have tattoos on their breasts.
I know it's bad to judge people but I just can't help it. Plus really what's the chances she's got this one someplace else....